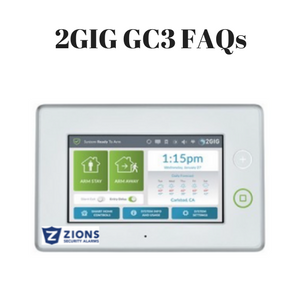 30 Nov

2GIG GC3 Panel: Frequently Asked Questions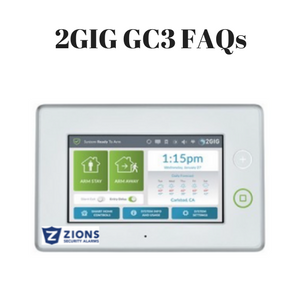 Today we're going to cover the 2GIG GC3 Panel and answer some of the most frequently asked questions.
Whether you're a current owner or want to get yourself this sleek looking, top-of-the-line panel, here are some questions you may have.
Top 2GIG GC3 Panel FAQs
#1: How do I use the duress code capability?
The duress code function allows you to send an alert to the central monitoring station without alerting an intruder.
If your system is armed, press the disarm button and enter your duress code. If your system is disarmed, press the logo icon and then enter your duress code.
#2. I want to bookmark a screen because I always navigate there (for example: Smart Home Control screen). How do I do that?
Pull up the screen you want to bookmark and press the icon to the right of the message icon. You'll then see a message that says "bookmark this screen?" Just confirm that by pressing the OK button, and you're good to go!
To pull up the bookmarked screen later, just press the bookmark icon to the right of the message icon.
#3. What kind of trouble alerts does the 2GIG GC3 Panel automatically check for?
The 2GIG GC3 Panel checks the wired and wireless devices paired with the system. Here are the trouble alerts this panel checks on that you can be alerted to:
AC power loss to the panel

Cell radio connection interruption

Sensor low battery

Panel backup battery low

Sensor tamper

Panel tamper Sensor supervision (if enabled)
#4. I want to leave a window open in one of my protection zones but I want to arm the system. How do I force a bypass?
If an entry point that is being monitored is open, you'll need to bypass that sensor.
Tap the System settings.

Enter your code.

Tap the Bypass Sensors button.

Find the sensor you want to bypass and slide the button on the right.
#5. What does the Quick Exit function do?
The Quick Exit feature allows you to exit your house while your system is already armed. That way you don't have to disarm and then rearm the system.
#6. I burned some food in the oven and it set off my fire alarm. How can I turn it off?
In case of a false alarm, enter your user code to silence it and then click on the Alarms screen to see which sensor detected it.
The alarm may go off again if the sensor is still picking up smoke. If that happens, just enter your user code and fan the detection chamber on the sensor.
After you've addressed the issue, tap and clear the alarm history.
#7. Can I use a keyfob with my 2GIG GC3 Panel?
Yup! You'll need your installer to configure the keyfob. Depending on your keyfob's settings, here are the functions it can perform:
Arm the System in Stay Mode

Arm the System in Away Mode

Disarm the System

Activate an Auxiliary Function

Activate an Alarm
#8. What is a Scene?
You can create customized scenes, or settings, based off scenarios, like "going to work," or "waking up," or "going to bed" to control your lights, home automation devices, and sensors.
For example, you can set up a "going to bed" scene that could, depending on your equipment, lock your door, turn off your lights, and adjust the thermostat setting.
To set up a scene:
Go to the Smart Home Controls page

Tap Scenes

Then tap Edit Scenes

Tap Add New Scene

Enter a name for the Scene then tap Next

Tap the scene you want to edit

Click Add or Remove Items

Find the smart home control you'd like to add and tap the arrow

Tap the + sign next to the device you want to add. Once it's added, the icon will be yellow

To add more devices, click Back and repeat. To save the scene, simply tap outside the drop-down menu and it will close
#9. I want to check the serial number, Z-wave version, or firmware version. How do I do that?
Tap the System Usage & Info button, then click on System info.
#10. How do I add a new user to my system?
Go to the Home screen and tap on System Settings

Enter your Master User Code

Tap on Users

Tap Add User

Enter a name for the User

You'll then need to set up a 4-number unique code for the User

Enter the same 4-number unique code again to confirm
This system supports up to 100 four-digit pass codes.
Maximize Your User Experience
Put your 2GIG GC3 Panel to use and enjoy all of its incredible features. But did we happen to miss a question you had? If so, go ahead and leave a comment below and let us know!