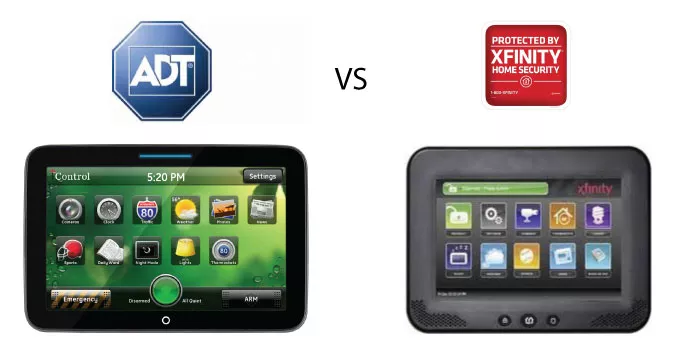 20 Sep

What are the differences between ADT Pulse and Xfinity Home Security?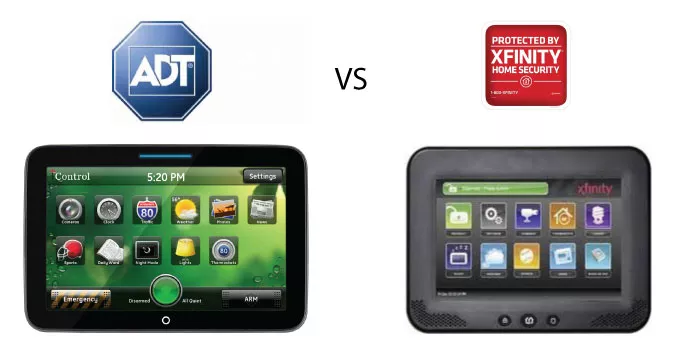 We recently helped a customer switch from Xfinity Home Security to ADT Pulse.  During the sales and installation process, we learned many things that many people may not know about Xfinity Home. We also get asked sometimes what the differences are and we have not known up close until now. Comcast or Xfinity mail out thousands of offers for their customers to experience home automation and security, and they would want them to think that they're going to get the same equipment and service as ADT Pulse, but they are very different. If you're considering trying out Xfinity Home, make sure you read this first because most people won't know about these differences until they're stuck in a contract with Xfinity for 3 years.
Some of the observations were as follows.
The entire system is based on the touchscreen keypad that sits on the nightstand or counter having power.
You can only have one xfinity touchscreen keypad.
The Xfinity touchscreen keypad is poorly designed and not very reactive.
Battery life in Xfinity touchscreen is only 15 minutes (according to what the customer told us).
They use equipment that isn't compatible with any other alarm system. Their door and window sensors and motion detector are not compatible with Honeywell panels.
They use Zigbee instead of Z-Wave technology.
Xfinity can only do 4 cameras.
They don't have a talking keypad option.
Xfinity vs ADT Pulse
The first observation that was scary was that when we powered down the Xfinity touchscreen keypad (unplugged it and pulled out the back up battery), there were no door chimes anymore. This means that if someone took that keypad, the system would be dead. This seems like a HUGE flaw, especially because it's not mounted to the wall with 4 screws like our keypads usually are. It just plugs in the wall and sits on the nightstand. If someone took or unplugged the ADT Pulse Touchscreen, it wouldn't change anything on the security system.
The second observation was that you can only have one of their touchscreens. This doesn't seem to be a huge deal since most ADT Pulse customers do not have these really nice keypads, but this customer wanted two and Xfinity could only give him one. Now he has two ADT Pulse touchscreens.
Xfinity keypad vs ADT Pulse keypad
The customer said that the Xfinity keypad was very difficult to use and not very responsive.
Since the keypad was the heart of their security, it was a concern as well that the battery life lasted only 15 minutes if the power went out. That means in a case of a power outage or if someone cut the power to the house, they would have full access without any alarm sounding after 15 minutes! That is crazy, especially since as a security company, we always have 24 hour back up batteries.
They choose to make proprietary door/window sensors and motion detectors among other equipment. This means that if you drop $2000 on their system and then decide that it's not cutting it, you would have to drop another $2000 to replace all your door, window, motion detectors, etc… Good for them, bad for you!
Z-wave is the most common platform for home automation. I'm not sure why they choose to go with Zigbee instead, but I think it was a bad move. Zigbee components are going to be harder to come by, they're more expensive, and again they're more exclusive to Xfinity. It may be a good decision for them, but it's bad for the consumer that wants to add a few things later.
Cameras
ADT Pulse can have up to 10 cameras installed. Xfinity can only have four. This is a problem since many people like to have more than 4 wireless cameras around the inside and outside of the house.
One aspect that was really important to this customer was to have talking keypads that announced the zone description when a door or window was open. This way, he could know where someone entered without looking around.  I'm not sure why Xfinity home doesn't offer this, but we offer both options with ADT Pulse.
Customer Review
Our customer gave a comparison in his own words: "the Xfinity keypad is total junk. Its ugly to start with, and the touch interface is horrible. You literally have to press so hard to get a response that one would think it doesn't work. The keypad will not talk, and that was one of the most important features to me. It just gives you a ding, but that doesn't help you to know where a potential threat is in your home. The system is limited as to what features and accessories can be added. It also allows only 1 touchscreen.
ADT's systems are built for user convenience and is completely user friendly. You can program and add Z-wave devices from your laptop. Devices on Xfinity have to be added from the touchscreen and I found that the ones provided to me by the installer never worked. One more problem is that the Xfinity smartphone app would lock the phone up. The only way out was to power down the phone and start over.
It's my experience that comparing the 2 different systems isn't a fair comparison as the ADT system is by far more advanced, better priced, and completely user friendly. It also gives the homeowner the ability to "customize" his own environment. "
I always knew that the ADT Pulse experience would be better overall for my customers, but it was great to see the differences close up and get such positive feedback from our new customer.
We would love to hear from anyone else that has more information about this comparison and even a comparison with ADT Pulse and Alarm.com.  Please leave a comment or contact us to contribute more. The information I have on this has come from Xfinity Home customers. If you know more, please let me know.
Update
I have received messages from some that have updated me with some new information about Xfinity Home and I wanted to add these updates as I learn about them.
You can hook up more than 4 cameras now. (not sure how many is the max but I think it's 6).
Xfinity has come out with a newer touchscreen that looks better and is improved some from what I hear. Supposedly, you can program it to talk if you want.