04 Aug

ADT Touchscreen HS101ADT can now be wall mounted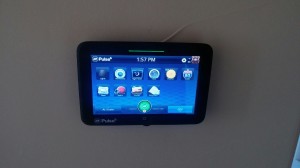 Do you have an ADT Touchscreen HS101ADT and always wanted to mount it to the wall?
Or have you been holding off buying the HS101ADT because it doesn't come with a wall mount kit?
The wait is over. You can now wall mount the ADT Touchscreen HS101ADT. Chris Murdock, an ADT Dealer in the Fresno Area, recently discovered a way to mount the HS101ADT keypad on the wall.
Up until now, there hasn't been a very reliable way to mount the keypad to the wall. Other keypads, like the newer HSS301 ADT Color Touchscreen Keypad, have a wall mount kit available, but this one does not. I have heard of people screwing the case that it comes with to the wall, but I have not heard if this has worked well or not.
I then got word from Chris that he figured a way to mount the ADT Pulse Touchscreen Keypad to the wall. He sent me a video and without further adieu, watch the video below.
How to do it
You can see that two rare earth magnets were adhered to the keypad; there are also two adhered behind the wall plate. He adhered them with silicone and glue, which could take a few hours to dry. Other epoxies may also work, but the usual adhesive tape will not be strong enough.
You can see in the above picture the two magnets adhered to the wall plate.
Chris also spliced 22/4 into the power cable and plugged it in farther away.  You will need to add a retro low voltage single gang box and cover like the ones you see here if you are going to do this. The power cord does not need to be spliced if you mount the keypad directly over an outlet or in between the same studs as an outlet.
So there you have it. Thanks Chris for sharing!
Other video showing thermostats embedded also.
If you would like more information on how you can get ADT Pulse, please contact us for a free estimate.