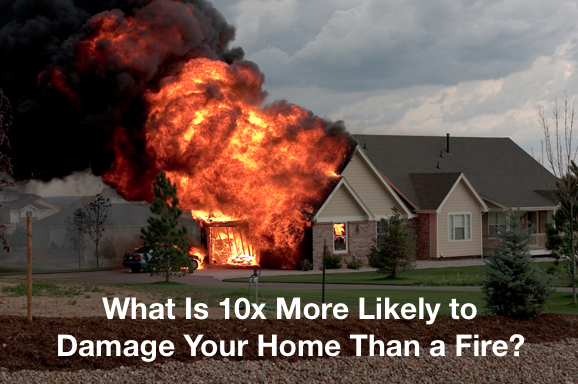 01 Sep

What Is 10x More Likely to Damage Your Home Than a Fire?
Fire damage is no joke. House fires are absolutely devastating. But guess what?
Your home is 10x more likely to be damaged by something else, other than a fire.
What could it possibly be?
Water damage.
That's right. Water damage is a much more prevalent home destroyer. Let's talk quickly about water damage, it's disastrous effects, and what you can possibly do to protect your house from this disaster.
Water Damage: The Ultimate Home Disaster
Flooding and water damage can happen when you least expect it.
Coming home from a busy day at work, school, or waking up in the morning and seeing that your house has been ravaged by a water damage due to a defective bathtub, sink faucet, toilet, water heater, dishwasher, pipe (the list goes on) can be absolutely devastating.
Water damage can ruin your floors, furniture, walls, possessions, and much more.
Not to mention, depending on your insurance policy, repairing flooding and water damage can result in spending hundreds and even thousands of dollars in repairs and comes with quite a bit of heartache. Also, there are some things you may not be able to repair and recover.
Is there anything that you can do to help you combat, prevent, or stop water damage and save your bank account from endless dollars spent on restorations?
Actually, there is.
If you have a security system installed, there's an awesome, nifty device you can install to alert you of potential flooding. It's called a water sensor.
The name says it all. Let's see what's so special about this device.
Water Sensors: Be Notified Immediately to Prevent Home Damage
Water sensors have the ability to detect flooding and help you stop water damage in its tracks. Incredible, right?
Take, for instance, this wireless water sensor that is compatible with Honeywell and Lynx systems.
Depending on your wireless zones, this water sensor can alert you of water damage if the external probe is in contact with 1/4 inch of water for more than 3 minutes.
A wireless water sensor is perfect for perfect for setting up next to sinks, in your basement, your dishwasher, or by any other water appliance.
Early detection can be a game changer when it comes to saving money and protecting your home!
By adding a water sensor to your existing alarm system, think of all the money you can save in the long run, not to mention you'll also be able to rest at ease, knowing you're taking preventative action.
Protect Your Home Today
Security systems aren't just great ways to help secure your home from break-ins and allow you to check in on your house remotely from your phone (with ADT Pulse). They also help you take complete control of your home protection, including water damage.
If you're looking to start protecting your home immediately, head on over to Zions Security Alarms and take advantage of their special pricing and deals today.
You won't regret it!