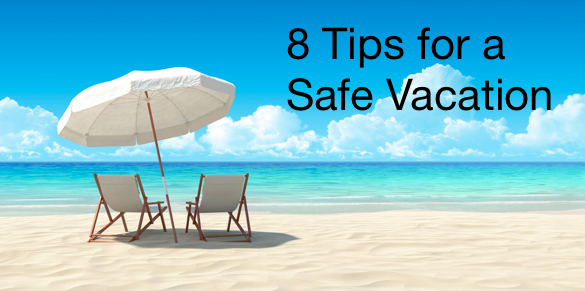 26 Jul

8 Tips For a Safe Vacation

Is there anything better than a vacation?

Actually, yes. A SAFE vacation.

Being able to travel and see places, spend time with family and friends, and relax is priceless. But just because you're on vacation doesn't mean you shouldn't be taking extra precautions to make sure you and your loved ones are protected.

Here are some important vacation safety tips to keep in mind the next time you hit the road.
1. Be Careful What You Broadcast on Social Media
Sharing your experiences on social media with your friends and family while you're on vacation can be fun, but it can also be a reminder to people that you aren't home, especially if your social media profiles are made public, so anyone can see.
Make sure to use social media safely. You can always recap your adventures when you're back home!
2. Keep Your Home Secure While You're Away
Getting a security system like ADT can allow you to completely monitor your home, and even make it look like there is someone there.
With ADT Pulse technology, you can make sure your entrances are locked and secure with smart locks, you can even talk to those at your doorstep with a doorbell camera, or even turn appliances like light fixtures on and off. By adjusting your lights, it can give the appearance that someone is home.
3. Have a Neighbor Collect Any Packages
Making it look like someone is home is key. If you are having packages delivered while you're out and having them sit on your porch can A) make it look like nobody is home and B) leave your valuables out in the open for people to come by and steal.
Plan with a neighbor or friend to collect any deliveries from your home.
4. If You're Going to the Beach, Store Your Belongings
Don't leave your belongings in your beach bag, and definitely do your best to not leave your beach bag in plain view.
Try storing your wallet and keys in an inconspicuous place. For example, if you have a toddler, you may store your belongings in an unused diaper. No one wants to steal a diaper, especially if it looks used..
5. When Staying in a Hotel, Familiarize Yourself With the Exits
If you are happen to stay in a hotel while on your vacation, check out where your nearest exit is, as well as the stairs.
In case of an emergency, you'll be much better off and level headed knowing how to safely exit the hotel.
6. Be Careful of Wifi
Unfortunately, it can be really easy for hackers to access important information on your phone like credit cards. Cybersecurity is definitely something to consider.
Make sure to only use secured wifi, like your hotel's official wifi network. They generally have it posted in your room. If you are unsure, be sure to ask the front desk.
7. Don't Leave Luggage and Belongings in Your Car Overnight
After a long day's travel, the last thing you may feel like doing is hauling all of your luggage into the place you're staying. But, it's definitely worth it.
Don't leave belongings and luggage inside your vehicle overnight. Forgetting to bring your things inside turns the hotel parking lot into a buffet of theft opportunities for thieves.
8. Don't Leave Valuables Out in Your Hotel Room
When heading out for the day, pack your belongings away. As much as you'd love to trust that your stuff is safe in your hotel room, the reality is it can be all too easy for a dishonest hotel employee to meddle with your belongings.
Have Fun
Vacations are all about relaxing and making memories. The last thing you want to be doing is worrying about your safety and also having to worry about your home being protected while you're out.
An alarm system is a great way to keep tabs on everything back ay home, so you can rest easy and have a great time.