Plastic Video Door Station Description:
This is out of stock if you are looking for a replacement then we have one here
The Plastic Video Door Station is a surface mount door station used with the hands-free, color video entry series. The unit mounts to a 1-gang box and has a sturdy ABS plastic housing with a clear polycarbonate lens cover. The station also features a color 1/ 4″ CMOS camera, speaker, and mic for communication, illuminated call button, and white illumination LED for low-light conditions.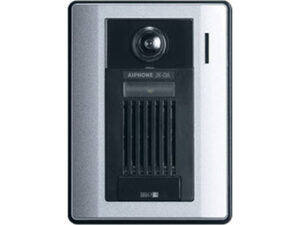 Key Features:
Wide angle camera allows user to view up to 170° of the entry area
LED illumination automatically turns on in low light conditions
Camera position as well as zoom sets for call-in
Furthermore, The Camera manually adjusts to compensate for bright illumination
Locator LED above call button is always on
Mounts directly to wall or 1-gang box