The LiftMaster Smart Garage Hub. Take total control of your garage, get notified when your garage is still open, and close it using a smart device. Share access to up to 5 people to control your myQ device. Simple setup into your garage connect with Bluetooth integration. Download the myQ app and follow the instructions to set up your account. For the installation, just mount the Door sensor with the included Velcro strips, connect everything and mount the Hub near an outlet. And if you want to upgrade, you can add a second sensor if you have 2 garage doors in your home.
The LiftMaster Smart Garage Hub makes you choose preset times for your garage door to open or close or even control your lights on/off every day. This new modern white finish blends within ceilings, walls, and garage doors. Most garage door opener brands are compatible with the Smart Garage Control if the model was manufactured after 1993. You can check out other LiftMaster Products we offer here.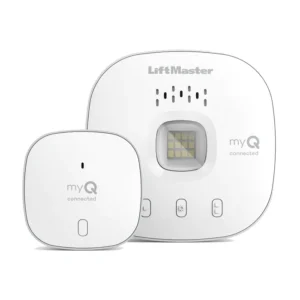 Features:
Share access to up to 5 members of your family. This will allow them to control your garage even if you working or on vacation.
Set a schedule for when you want to open or close your garage. Even control the lighting on when you want to have the lights on or off.
Easy to install. This hub only takes you 5 mins to install after you read the instruction and download the app.
Please check out our YouTube Channel for more information.