Elk Security System Control Board Description:
The Elk Security System Control Board is commonly referred to as a Cross-Platform control. This is due to the fact that it can be networked with other industry-standard systems. A 500+ word vocabulary pleasantly announces system status, configurable in any sequence, to alleviate user intimidation. In addition, the built-in voice dialer can also call up to 8 phone numbers as well as alert owners of status changes. This includes critical temperature levels, water leaks, children arriving home from school, etc.
Furthermore, built-in telephone remote control also allows you to control temperature settings, water heater, garage door, lighting, etc. It can also let you control the sprinklers, arming/disarming system, and more. And you can do this by simply picking up the phone – any phone. So you can have access to your house away from home.
But if this isn't what you're looking for, please look at our other panels.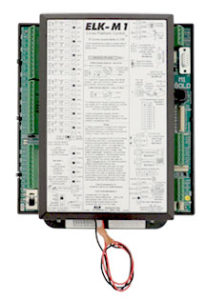 Features:
Includes Large zone capacity: 16 on-board zones expandable to 208
Wireless capability: Up to 144 zones
Two-way Listen-in interface
Time/Date stamped 512 event history log
Menu-driven, full-text keypad programming – so no manual required!
Additional Voice Announcement of alarms, zone descriptions, status, etc.
500+ Word/phrase Vocabulary
Link up to 6 words/phrases per announcement
10 custom recordable word/phrases
13 On-board Outputs: 1 voice/siren, 1 siren driver, 1 form "C" relay and 10 low current (50mA) outputs