Elk 16.5Vac Transformer
$29.00
• Elk 16.5Vac Transformer includes, Auto-Resetting (PTC) Fused Secondary
• Green Power On LED
• Grounding Prong & Terminal
• Electrical outlet mounting tab
• UL Listed
• Wire Strain Relief
• Lifetime Limited Warranty
Description
Elk 16.5Vac Transformer Description:
• Elk 16.5Vac Transformer includes, Auto Resetting (PTC) Fused Secondary.
• Green Power On LED (light emitting diode)
• Grounding Prong & Terminal
• Elk Electrical outlet mounting tab
• UL is additionally Listed
• Wire Strain Relief Power
• Also features Lifetime Limited Warranty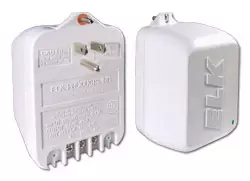 Trusted, professional grade step-down transformer for low voltage systems, such as Access Control, Security & CCTV.
Main Features
Auto-Resetting (PTC) Fused Secondary
Green Power On LED
Grounding Prong & Terminal
Electrical outlet mounting tab
Efficiency Level VI
UL Listed
Wire Strain Relief
Lifetime Limited Warranty
Specifications
Input Voltage: 120 VAC, 60Hz, .43A
Output Voltage: 16.5 Volts A.C.
Output Power: 45 VA
Size: 4.14″H x 2.74″W x 2.2″D
Color: White
Name: ELK-TRG1640 16.5VAC, 45 VA Transformers, ELK Products, Inc, ELK Products
Category: ELK Products, Intrusion, Batteries & Power Supplies, Power Products, Power Transformers, Transformers, Plug-in Transformers, Labor Day Sale
UPC Code: 762158116407
Country of Origin: China. The country of origin is subject to change.
Additional Information:

• Input Voltage:
• Output Voltage:
• Output Power:
• Size:• Color:
120 VAC, 60Hz,  .43A
TRG1640 = 16.5 Volts A.C.
TRG2440 = 24 Volts A.C.
TRG1640 = 45 VA.
TRG2440 = 40 VA.
H=4.14″(105), W=2.74″(70), D=2.2″(56)
White
You can also see other listings of additional transformers here on our website.
Please check out our YouTube Channel for more information.
Reviews (1)