ADT Wireless Recessed Roller Plunger Switch Description
ADT Wireless Recessed Roller Plunger Switch provides concealed protection for entry doors and is so small it virtually disappears once installed. With features including a clean, fast installation, battery life of up to 7 years* and exceptional range, you'll want to use it where aesthetics and discretion are critical.
Compatible with Honeywell, Resideo, 2GIG, and Qolsys 345 version panels.
Once programmed in it just needs to be installed by drilling with a 3/4″ drill bit. The hole needs to be 1.25″ deep. And a second hold is usually drilled in the center of the first hold to feed the antenna wire into the wall and it could really be any size but usually 1/4″. It also needs to be installed on the hinge side of the door jam. This way when the door is closed it closes into the button and pushed the plunger in. You can also check out this 1620 Coin Cell Battery that is designed with a reliable energy solution for your electronic devices like sensors and plunger switches.
But if this isn't what you're looking for, feel free to look at any of our other wireless sensors.
Features
Currently the smallest wireless recessed transmitter on the market
Up to 7-year battery life*
Perfect solution when aesthetics are a concern
Replaceable lithium coin cell battery (criczo type)
*subject to use
For More Information on security or products visit our YouTube Channel here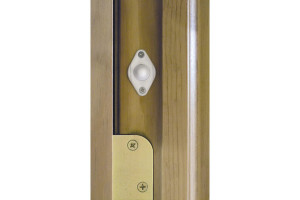 Please check out our
YouTube
Channel for more information.