Description:
The ADT Safewatch Safepass Alpha Keypad is easy to install and simple to use. In addition, using the key tag, you can arm and disarm your system, making operation effortless while reducing false alarms. Additionally, the prox keypad can also be installed with any safewatch pro or Vista Control Panel. Furthermore, the security code is incorporated into the prox tag for easy enrollment.
The ADT Safewatch Safepass Alpha Keypad also features a large, bright 32-character display with easy-to-read plain-English status messages. The over-sized function keys are easily accessible even when the keypad door is closed and can also be programmed for fire, burglary, and personal emergencies as well as other operations. In addition, colored self-adhesive labels are thus included to easily identify one-button functions.
The keypad also comes with two ADT Safewatch Safepass Key Tags.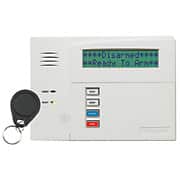 Features of the ADT Safewatch Safepass Alpha Keypad
2-Line Alpha Display
Backlit Display
Continuously Backlit Keys for convenience
Programmable Function Buttons
Built in sounder
Arm or disarm with Key Tags
LED indicators for Armed and Ready to Arm
Supervised by Control Panel
Uses two keypad addresses
Installation Notes for the ADT Safewatch Safepass Alpha Keypad
Keypad can only be used on addressable systems (safewatch pro or vista) and must be set for address 16-23.
Through using the control panel in programming, you must also enable The Prox Reader which uses an additional keypad address.
The partition used for the keypad, prox reader, as well as the user codes must be the same
The tags will only arm and disarm one partition and cannot perform global arming operations
Use only the ADT Safewatch Safepass Key Tags
If you hold down the 1 and 3 at the same time you will see the current keypad address (thus default is 31, but most people change it to 16 or 17)
Specifications of the ADT Safewatch Safepass Alpha Keypad
Physical: 5-5/16″H x 7-3/8″W x 1-3/16″D
Displays: 2 x 16 alpha-numeric supertwist LCD, backlit
Sounder: Speaker (fire alarm is loud, pulsing single tone; burglary alarm is loud, continuous, dual tone)
Voltage: 12VDC (power-limited)
Current: 165mA (ARMED LED lit, LCD backlight and sounder on), reduces to 40mA when panel is operating in standby mode (backlight off)
NFPA-72 Compliant