ADT Hold Up Button Stainless Steel Description:
The ADT Hold Up Button Stainless Steel was designed for silent operation.  It's also available in a stainless steel cover like this one, or a plastic case, and even wireless versions. They mount quickly and easily in discreet locations. The ADT Hold Up Buttons work best for use in locations such as banks, jewelry stores, retail establishments or any situation that requires hold-up notification. This hold up button is hardwired to a security panel like a safewatchpro 3000.
Today, you can use wireless holdup buttons and compact "duress pendants" to add much-needed people protection to the security mix. Banks still are leaders in panic button use, but a host of new applications are making their way into a variety of industries, including retail. The "holdup button" also finds more uses in over-the-counter cash transaction-based businesses, such as convenience, gas, bill payment, and retail outlets. It's also not uncommon to have them installed in a master bedroom in a home or in a kitchen.
Additionally, it requires a key to reset. If you need the key, you can buy it here.
Hold Up Button Features:
Silent operation
Double-pole double-throw contacts for multi-notifications
In addition, Twin 45° screw terminals with EOL resistor splicing terminal
Adhesive pads for temporary positioning while installing
Stainless steel cover
Fully supervised
Convenient reset key for testing and/or reset of alarm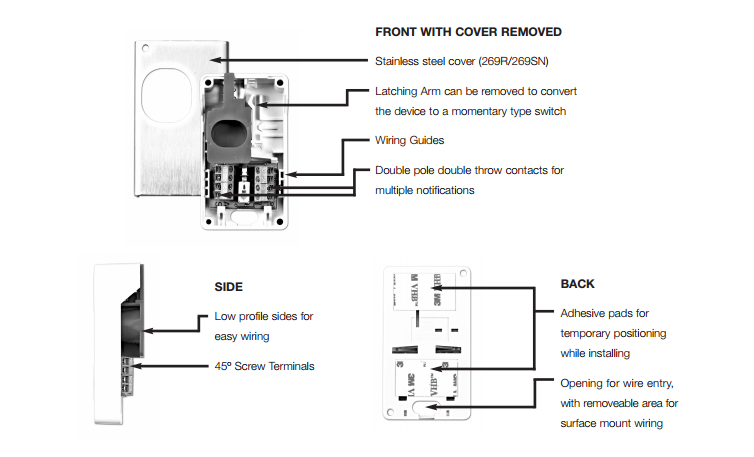 Specifications:
Switch type: Plunger type DPDT
Switch action: Selectable latching or momentary
Rating: 0.2A @ 30VDC max.
Connections: Four position 45° screw terminal block for each output side with EOL resistor splicing terminals
Operating Temp: 14° F to 140° F (-10° to 60°C)
Dimensions: 3.5″ L x 2.0″ W x 1.25″ D
Listed for UL636 Hold-Up alarm units and systems