The ADT Hardwired Water Sensor can help you prevent water damage before it happens. Water damage from leaky pipes or corroded water heaters can be very expensive if not detected.  So using a water sensor is a cost-efficient way to make sure your house doesn't flood or have substantial water damage. This water sensor is compatible with any hardwired panel, including the most common Safewatch Pro 3000 used by most ADT customers. It can detect any non-flammable liquid and is ideal anywhere that water damage could occur.
Using no mechanical parts, this water sensor is triggered by a moisture bridge across the sensor contacts. So you can install it to detect a layer of water as minute as 1/16 of an inch in depth.
Additionally, this sensor is a closed-loop sensor that uses an external power source to energize a built-in relay contact, so don't use battery power. Used in a closed loop configuration, an alarm condition will occur when the sensor detects moisture, or if the sensor loses power and fails. The relay output can be wired directly to any alarm panel or can be used to actuate an external device, i.e. transmitter, annunciator, etc.
Features of the ADT Hardwired Water Sensor:
Will detect any conductive non-flammable liquid
Ideal anywhere water damage could occur
Automatic Reset
Available in gray only
6 foot jacketed lead standard
Custom lead lengths available
Available in 5 VDC, 12 VDC and 24 VDC
New 24 Volt AC Water Sensor
Installation Instructions
The ADT Hardwired Water Sensor is used to detect the presence of water and to provide a relay signal for controlling external devices. The switch operates on 12 Volts DC and functions as a Normally Closed Sensor, for a Normally Closed Loop system. Its wiring works like a hardwired motion detector or hardwired glassbreak detector. The Red and Black wires are for powering the switch while the White and Green wires are the relay control wires. For installation on an alarm panel, connect the Red wire to the auxiliary 12 volt supply and the Black wire to negative. You can then connect the Green and White wires to any pre-selected Closed Loop terminal. You can also connect a resistor in series with either the Green or White wire for those panels that require end-of-line resistance. (The Vista/Safewatch pro panel does)
Additionally, after installation, you should test these units with water and inspect them annually. If there is any corrosion or damage, you should replace the sensor.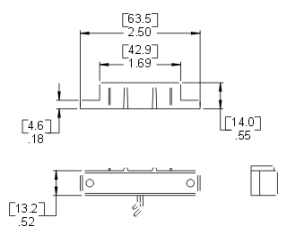 Power Requirements:
Operating Voltage 12 Volts DC
Operating Current 10 mA
Contact Characteristics:
Contact Resistance 100mΩ
Switching Voltage 200 Volts DC Max
Switching Current 500 mA Max
Carry Current 1 Amp Max
Power 10 VA Max
Wire Connections:
Red +12 volts DC
Black -Ground
Green Relay Contact (connect to zone)
White Relay Contact (connect to zone)