4x4MP Multi-Sensor Panoramic Bullet Camera
$3,200.00
The 4x4MP Multi-Sensor Panoramic Bullet Camera raises the bar for security surveillance with its outstanding features and durable construction. Featuring a 4×4-MP 1/1.8″ CMOS image sensor, this camera offers high-definition images with low luminance, allowing for clear visuals even in difficult lighting conditions. It is integrated with IR LEDs that provide strong night vision capabilities with a maximum illuminating distance of 30 meters
Description
Product Description:
The 4x4MP Multi-Sensor Panoramic Bullet Camera raises the bar for security surveillance with its outstanding features and durable construction. Featuring a 4×4-MP 1/1.8″ CMOS image sensor, this camera offers high-definition images with low luminance, allowing for clear visuals even in difficult lighting conditions. It is integrated with IR LEDs that provide strong night vision capabilities with a maximum illuminating distance of 30 meters. This camera includes 3D NR, HLC, BLC, and digital watermarking technologies to enhance image quality in diverse settings. The camera has a wide range of connectivity choices, including support for RS-485, BNC interfaces, 2 alarm inputs, 2 alarm outputs, 1 audio input, and 1 audio output. Choose between 12 VDC, 24 VAC, or PoE for a flexible power supply. This 4x4MP Multi-Sensor Panoramic Bullet Camera creates a new benchmark in the security monitoring industry with its remarkable performance and cutting-edge features.
Find the perfect security camera mount to suit your needs, providing stability and flexibility in your surveillance setup.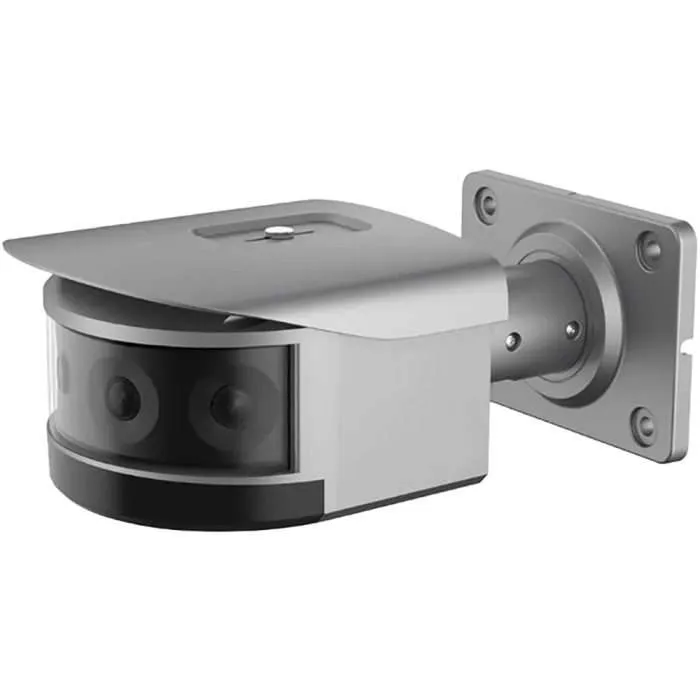 Main Features:
4×4-MP 1/1.8″ CMOS image sensor, low luminance, and high-definition image

Outputs max. 16 MP (5520 × 2700) @25/30 fps

H.265 codec, high compression rate, ultra-low bit rate

Three streams for HD video display

Built-in IR LED, and the max. illumination distance is 30 meters

3D NR, HLC, BLC, digital watermarking, applicable to various monitoring scenes

ROI, SMART H.264+/H.265+, flexible coding, applicable to various bandwidth and storage environments

Alarm: 2 in, 2 out; audio: 1 in, 1 out; RS-485; BNC; supports max. 256 G Micro SD card

12 VDC/24 VAC/PoE power supply, easy for installation

IP67 and IK10 protection
Please check out our YouTube Channel for more information.
Reviews (1)