2MP IP Bullet LPR Camera Description:
The 2MP IP Bullet License Plate Recognition Camera is the IP Camera option if you need to get license plate numbers. It has a zoom from 8mm(33.4 degree angle) to 32mm(8.6 degrees) and has infrared ability to see up to 328ft away and adjust focus through your OSD on the NVR. With that kind of varifocal zoom and infrared you will have a good chance at seeing license plates or anything else you need to keep an eye on from a distance.
Additionally, the infrared LEDs not only make plates visible but the car as well as the area around it too. This makes it accessible and easy to make a point of reference while going over the footage. Since this camera will only be looking at things at a distance, if you want to see close up it is recommended to add additional cameras so you can reduce blind spots.
For use with a network recorder.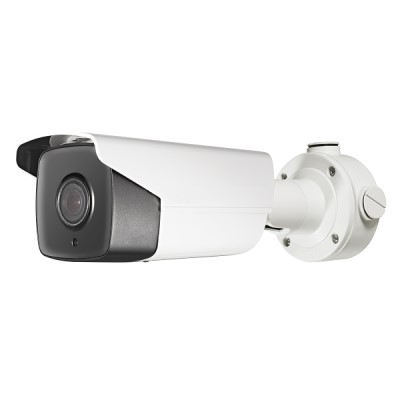 Key Features:
License Plate Recognition up to 60MPH
2.1MP High Definition
8 – 32mm Motorized Lens with Auto Focus
1920 x [email protected]
Infrared IR up to 328 feet
H.264, H.264 Zip+
Ultra Low Lux 0.0027 @ F1.4
True WDR 120dB
IP67
MicroSD Slot up to 128GB
Audio I/O & Alarm I/O
DC 12V, PoE
Specifications:
Working Temperature/Humidity
– 22 ° F ~ 14 0°F (- 30 °C ~ 60 °C)

---

Humidity 95% or les s (non- condens ing)

Power Supply
DC12V ± 10%, PoE (802.3at, class 4)
Power Consumption
12 VDC, max. 13.3 W, 1.2 A; PoE, max. 17.6 W, 0.3 A to 0.5 A
Weatherproof Ratings
IP67
Dimensions
13.72″ × 4.5″ × 4.4″(348.38 × 114.18 × 111.73 mm)
Weight
4.57lbs (2075 g)