Product Description:
The 2MP HD-TVI IR Bullet Camera provides unparalleled surveillance footage using its 2 MP video resolution at 30 fps. The product features a 2.8mm lens security camera thus you don't have to worry about adjusting the viewing angle. The camera uses a 1/2.9" CMOS sensor to transmit 1920 x 1080 image size. It has built-in Infrared LEDs, which improve vision in low light and guarantee that your video is always clear and visible. The 2MP HD-TVI IR Bullet Camera boasts its IP67 compliant. The product can withstand any weather situation, making the user feel at ease. The device can be utilized in contexts like outdoor or industrial settings where there is a greater risk of exposure to water, dust, and other particles. This product comes in two variations, the Fixed Lens and the Vari-Focal Lens. Note, this product comes with a junction box upon purchase.
If you want to learn more, you can check out other HD-TVI cameras in our store.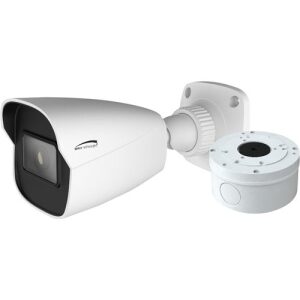 Main Features:
Image sensor: 1/2.9" CMOS
Resolution: 2MP
Image size: 1920 x 1080
Video Output: AHD/TVI/CVI/CVBS (*camera comes defaulted to HD-TVI)
Image system: PAL/NTSC
For Fixed Lens: IR Distance is 65.6-98.4 and for Vari-focal Lens: IR Distance is 98.4-164.0
Frame rate: 30fps (60Hz), 25fps (50Hz)
Lens: 2.8mm (Fixed Lens), 2.8-12mm (Vari-focal Lens)
IP67 compliant
Smart IR: Yes
Image setting: Yes
Power supply: DC12V (± 10%)
Please check out our YouTube Channel for more information.