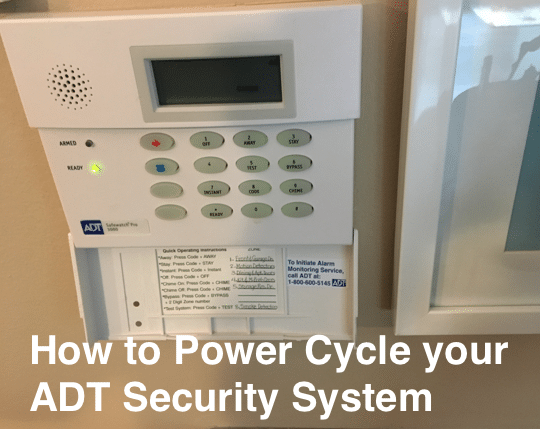 17 Mar

How to Power Cycle My ADT System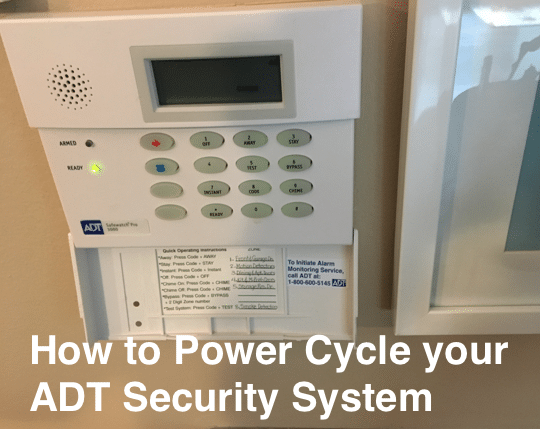 Has your ADT system encountered an issue, like a "103 Check" error code or displaying "FC" (meaning failed connection), and you don't know how to get it working like normal? You may need to power cycle your ADT system. (If your monitoring service isn't connected, you should contact us at 1-800-871-2119 and we can help you get it activated. A system that isn't active will also show these errors)
But how do you power cycle your ADT system?
Lucky for you, that's exactly what we're going to cover in this quick article. Grab a screwdriver (your panel may require one to open up), and let's see how you can easily power cycle your system.
A Quick How To: Power Cycle Your ADT System
More often than not, if your ADT system becomes unresponsive, all you need to do is a simple power cycle and the problem will be fixed.
To power cycle your ADT system, here's what to do:
Open your panel and disconnect the back-up battery. Depending on your system (like a Safewatch Quickconnect system), you may need to grab yourself a flat head screwdriver to push on the tabs and pop the top of the keypad/panel. If you have a Safewatch Pro 3000, you'll want to find your metal control panel cabinet. Then you should have the key, if you do not have a key for your panel and have the recomended lock by the manufactuer you can use our replacement key on our website. Then open it and you will find a large back-up battery like this one.
After disconnecting the back-up battery, go ahead and unplug the power. The power cord is most likely plugged in somewhere close to the panel. It will look like this transformer. If you want, you can also unscrew the terminal for either the black or red wire connecting your plug to the panel.
Once you've done these 2 steps, put the back-up battery back in and plug your system in again.
See how easy that is?
Don't Forget to Test Your System
After power cycling your system, it may be a good idea to test your system again.
One of the easiest ways to go about doing this is pressing on one of the panic buttons. Before you do this, be sure to notify ADT first to put your account in test mode! (Or use myadt.com which is way easier)
You'll know your system is up and running if ADT or your central station get the signal.
ADT Systems Make Protecting Your Home Easy
ADT's high quality systems and technology make protecting your home and the ones you love easier than ever.
As an Authorized ADT Dealer, we carry several products to make getting an ADT system and maintaining it more affordable than ever.
Seriously, you won't believe our specials going on right now! If you're looking to pick up some ADT equipment, now's the perfect time to do so and save big.