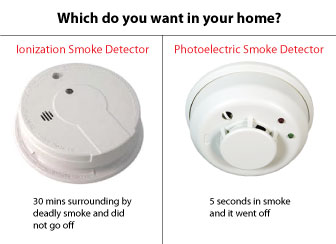 06 Sep

Why you should add a photoelectric smoke detector to your security system monitoring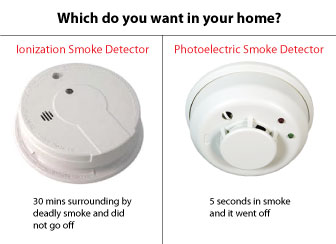 Why you should add a photoelectric smoke detector to your security system monitoring
One feature a home or business security system provides is the ability to add a wired or wireless smoke and heat detector. Most homes contain ionization smoke detectors that are not monitored. Adding a monitored one with a security company is usually a smart move for the following reasons.
1. The ordinary ionization smoke detectors are inexpensive and not very thorough. If there is a slow burning smokey fire it may not trigger your existing ionization smoke detectors. Photoelectric smoke detectors will detect both fast burning fires and slow burning smokey ones.  Watch this video done by a news channel in Indiana to see the difference.
2. A monitored smoke detector is going to contact someone to get help. There is no way to save someone life or property if no one knows what is happening.
3. Home owners insurance can give a larger discount at times if you have burglary and fire protection.
4. Monitored smoke detectors usually come with a heat detector also included so it can tell the difference when the temperature has been raised rapidly.
5. If the battery goes low on a monitored smoke detector the alarm system and monitoring station will alert you. If the battery dies on the ionization smokes it will beep and then stop. No one will alert you about it.
6. Every year many peoples lives are saved because of monitored smoke and heat detectors.
Those are the top 6 reasons why you should have a monitored photoelectric smoke and heat detector added to your home security today.  You do not need to replace the ones you have, just add one or more so you have better protection against fire and smoke.