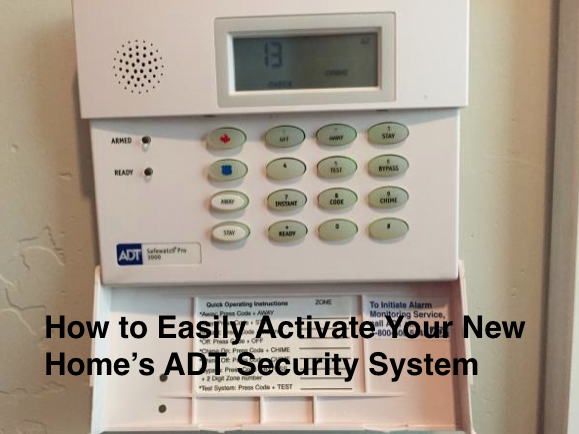 11 Jul

How to Easily Activate Your New Home's ADT Security System
How to Easily Activate Your New Home's ADT Security System
Did you just move into a new home that already has an ADT Security system? First off, congratulations! Moving into a new home is exciting.
Secondly, it's so simple to get your ADT system up and running, so you can protect your home and keep it safe.
How easy is it?
Kick your feet back and relax as I run through exactly how you can activate your recently acquired ADT system. I'll also answer a couple of the most common questions we get about new ADT home security systems.
How to Activate Your ADT System
What if I told you that you can set up your new ADT security system and get your home protected while still in your pajamas? Well, it's true!
To activate your new ADT system, all you need to do is give us a call. We'll do all of the hard work for you. Go ahead, call us here toll free: 800-871-2119.
We can usually figure out if your system is up to date and usable over the phone. Most of the time, we'll be able to get your system up and running with just some minor programming.
If you do need some new parts, or if you would like to add some new hardware to take your home monitoring and security to the next level (like with ADT Pulse), we can certainly help you out with that as well.
If your equipment is out of date, we'll arrange for a technician to come out to your residence and get you set up as soon as possible.
Securing and protecting your home shouldn't be a hassle, and it won't be with Zions Security Alarms. As an authorized ADT dealer, we're all about getting you the best deals on new, innovative technology in the most convenient way possible.
Now That Your ADT System Is Activated, How Do You Arm/Disarm It?
This is a big question that we get with new ADT customers, and this will largely depend on the type of control panel that you have. You'll want to make sure that you read the User Manual that comes with your home security system.
A majority of security systems that are installed are made by one of three companies: Honeywell, DSC, and GE.
Most systems will have a "Stay" and an "Away" or "Exit" button on the keypad.
To arm and disarm your system, all you'll need to know is your four-digit security code.
If you're leaving your home and would like to arm your system, depending on your system, you'll most likely just need to enter your security code and hit "Away" or "Exit". To disarm your system, just enter your four-digit security code.
Because you've moved into a home with a security hardware already installed, you may not have a user manual.
Don't worry, we've got you covered. We have several manuals on hand. Just click here to find your control panel.
How Can You Change Your Security Code?
So you have your ADT security system up and running. Want to change or reset the security code on the alarm system?
The first thing you'll want to do is consult your user manual. This will be the most helpful in changing or resetting the master security code, especially since each control panel can have a different process to follow.
For example, if you have DSC security system, here's how to change the master security code:
Press the " * " Button

Press "5"

Enter Your Current Four-Digit Security Master Code

Type in the Position Number

Enter new Four-Digit Code

Press the "#" key Hit "*"
If you have a Honeywell system, changing or resetting your master security code may look something like this:
Enter Your Current Four-Digit Security Master Code

Press "8"

Enter the Two-Digit Master User Number (This is generally "02")

Enter Your new Four-Digit Security Master Code Two Times In a Row
Is Your Alarm Beeping Periodically? Here's How to Fix It.
If your alarm begins beeps periodically, don't worry! The beeping sound is how your alarm system communicates what's known as a "trouble condition." Some of the most common trouble conditions that may be causing your alarm to beep include the following:
Low Battery

Power Trouble

A Problem With Your Telephone Line Monitor

Failure to Communicate With the Central Station

An Issue with A Piece of Security Equipment

The Internal Clock Was Reset
To silence the beeping, just disarm the system with your security code.
Now that the beeping is silenced, you can refer to your user manual. This will be the best way to address the beeping sound, as your user manual will contain the trouble codes and additional instructions on how to fix the trouble condition.
For further help on addressing the beeping sound, feel free to call us!
Get Your ADT System Set Up Today!
Nothing is better than knowing that your home is safe, whether you're in your house or on vacation.
With ADT Security System, you can rest easy, knowing that your residence is protected with a top-of-the-line monitoring system.
There's no better time than right now to activate your ADT security system. Go ahead and give us a call today: 800-871-2119 (TOLL FREE)
If you don't currently have an activated ADT system, we'd be more than happy to help you get set up. We'll also start you out with FREE hardware, like 3 Wireless Door Sensors, 1 Wireless Motion Detector, a 4-button key chain remote, and more!
Have an ADT system but don't want to activate it right now? You can still set up the alarm system in your house without the ADT monitoring service. You'll just need to know your security code. There's a good chance the previous owner may have forgotten to get you that information. We can help you set up a new code!
Protect your home today, so you can stop worrying and start living!