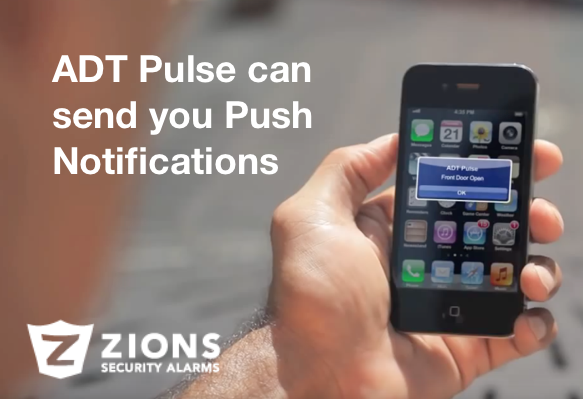 29 Mar

ADT Pulse Can Now Send Push Notifications

ADT just made staying up to date with your home security even easier: ADT Pulse can now send you push notifications

So, why is this new feature such a big deal?

Let's check it out.
Push Notifications and ADT Pulse
You may have seen "push notifications" before. They are very common with apps you may download to your phone. Many applications want to keep you aware of the latest updates or newest features.
By allowing "push notifications" for specific apps, you are able to get these alerts sent and displayed directly on your lock and home screen.
ADT Pulse has now made it possible to get alerts from your system in a super easy-to-view, digestible manner.
That's right, no need to open up your text messages or go dive into your email to see the system alert.
These notifications can now be pushed right to your home screen. Now you can instantly be notified of any triggered events.
How to Set Up Push Notifications for ADT Pulse
If you are a site owner, you can receive push notifications by downloading the latest version of the Pulse application.
A message will appear and introduce the new feature. You'll want to click the link on the message and then click "allow." This will enable push notifications.
To double check and make sure you've enabled push notifications, you can click on the menu button. There you will see a new message notification with more details and information.
If you are not a site owner, you won't see this new feature available.
If you'd like to set up more family members or friends to receive push notifications, here's what you'll need to do:
You'll need to completely log out of the Pulse application.

The site owner can log into his site owner credentials on their family member/friend's smart device, then accept the "push notifications" prompt on their device.

Log out of the site owner's credentials, and have the family member/friend log back into the ADT Pulse app with their own credentials.
Home Security Made Easier
If you do decide to enable push notifications, you may consider opting out of text message alerts by removing your number form the Pulse Web Portal if you are currently receiving text alerts.
ADT is always looking for ways to make protecting your home and loved ones more convenient and efficient.
If you currently do not have ADT Pulse, now is a great time to check it out. Home automation plus 24/7 monitoring makes for smart, safe security.
Live your life, and let ADT Pulse take care of the rest. Start protecting your home today and get the best deals at Zions Security Alarms, an Authorized ADT Dealer.