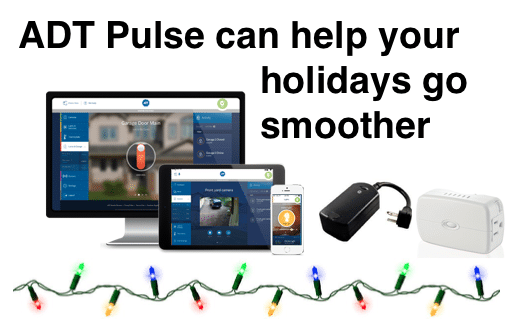 10 Dec

How ADT Pulse Can Help With the Holidays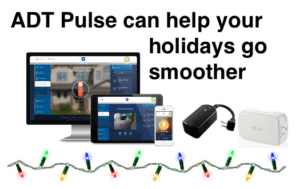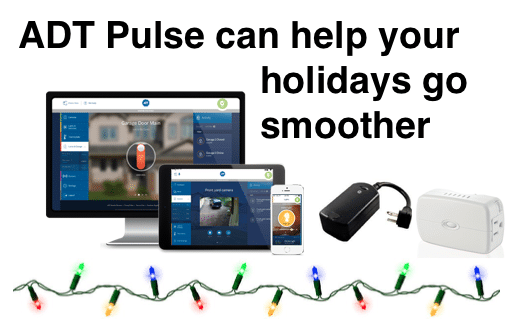 Christmas songs are playing on the radio, houses are lit up with decorative lights, and the shopping madness is well underway.
With the holidays officially upon us, things are starting to get even more busy -if they aren't already!
Luckily, ADT's smart Pulse technology comes in clutch, not only helping maximize home security, but making things easier and convenient this time of year.
That's right. ADT Pulse can help with the holidays. Let's run through what ADT Pulse is and just some of the ways it helps make life less crazy!
ADT Pulse: The Ultimate Holiday Convenience
ADT Pulse is a smart home automation system that let's you remotely monitor your home and control your temperature and lighting all from your smart phone. ADT Pulse is an all-in-one home security system.
Whether you're at work, running errands, or a family get together this holiday season, you can check in on your home from the palm of your hand. All you need is an internet connection.
But other than taking your home security to the next level, ADT Pulse comes in extra handy this time of year.
Lighting Control
Lighting up your yard, Christmas tree, house,  it's all apart of the holiday season, and while decorating with all sorts of lights can be pretty fun, but you know what isn't?
Forgetting to turn on/off your Christmas tree and other decorative lights before heading out of town, running errands, or going to bed.
Want to know the easy solution to showing off your festive hard work, without even needing to get up out of bed?
ADT Pulse technology. That's right. With ADT Pulse technology, you can control the lighting of your home all from the comfort of your bed and keep the lights on a schedule!
To control your indoor lights (like your Christmas Tree), click here to save big on the ADT Pulse Jasco Plug-In appliance module.
To control your outdoor lighting with ease, check out the ADT Pulse Jasco Plug-In appliance module by clicking here.
Using timers or manually turning your holiday lights on is a thing of the past. Now ADT Pulse will do it for you!
So whether your decorative obsession rivals Martha May Whovier's from The Grinch (remember the Christmas light machine-gun she uses?), or just trying to not be the only house on the street without lights, let ADT Pulse take the reigns and help you manage your decorations.
Keep Your Packages Safe
Can you say millions and millions of packages? This time of year is a delivery man's worst nightmare, and rightfully so. With online shopping and things like Cyber Monday becoming more and more popular, Christmas deliveries at your door may be a big part of the way you do your holiday shopping these days.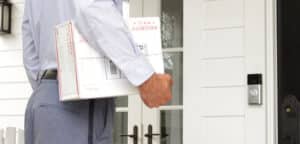 Want to know if your package was delivered, or just keep an eye on your front porch? ADT Pulse technology allows you to keep watch over your entryway with high-quality video cameras to make sure that your packages get delivered safely so it can end up inside your house and not in someone else's hands!
Remotely Lock and Unlock
Out doing some last minute shopping for your holiday get together and have friends and family show up at your house early?
No need to leave them out in the cold. You can remotely unlock the deadbolt on your front door from your smart phone with ADT Pulse and an internet connection.
If you forgot to lock the door as you rush off to work, or have a family member get locked out, this home automation system solves those problems.
Control Your Home Temperature
With these chilly nights and snow storms, keeping your home nice and toasty is especially convenient this time of year.
Have kids that like to mess with the thermostat? Or forget to adjust your home's temperature before you leave the house? Or how about wanting to kick up the heater because it's a little chilly as you're bundled up under your sheets?
ADT Pulse allows you to remotely monitor and adjust your home's temperature from your smart phone.
Make Simple Your Motto
See what I mean? ADT Pulse doesn't just help keep your home secure, it let's you enjoy the holidays even more.
As an authorized ADT dealer, we can help you take your home security to the next level and save money at the same time.
It's never too late to start protecting your home and taking advantage of the benefits that ADT Pulse has to offer, not just this winter season, but year round.
Get your home protected today without breaking the bank. You'll be glad you did!