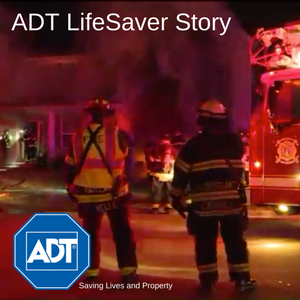 27 Oct

ADT Customer Saved From House Fire

In the United States, roughly every 2.5 hours someone dies in a house fire. Luckily, Florissant homeowner Tabitha Taylor was able to avoid this frightening and unfortunately statistic.

How?

Her working smoke detectors and her ADT security help button. That's right.
Home Security Devices Help Save the Day
Earlier this year, Tabitha heard her smoke detectors going off and came to the realization that there was a fire in her garage.
"You're panicking, not thinking clearly, and so it's really devastating," Tabitha Taylor says, reflecting on the scary experience. 
Due to her panicked state, Tabitha quickly pushed her ADT security button, instead of directly contacting the fire department.
The ADT phone rep quickly responded to Tabitha's cry for help and promptly alerted the Florissant Fire Department.
First responders were dispatched and at her Tabitha's home in roughly a minute and were able to get to work, putting out the fire and saving Tabitha and her family.
Deputy Fire Chief Mark Flauter of the Florissant Valley Fire Department said: "the fact she had working smoke detectors is a godsend."
Don't Be Another Statistic
The teamwork of ADT and the local fire department are an incredible example of the life-saving benefits that home security and protection have to offer.
So here's my question to you:
Do you have smoke detectors? And if so, are they working, or are they chirping?
Don't put off taking the necessary steps today to improve your home security.
If your smoke detectors aren't currently working, get them fixed -it's that simple.
If you're needing new smoke detectors, get them today.