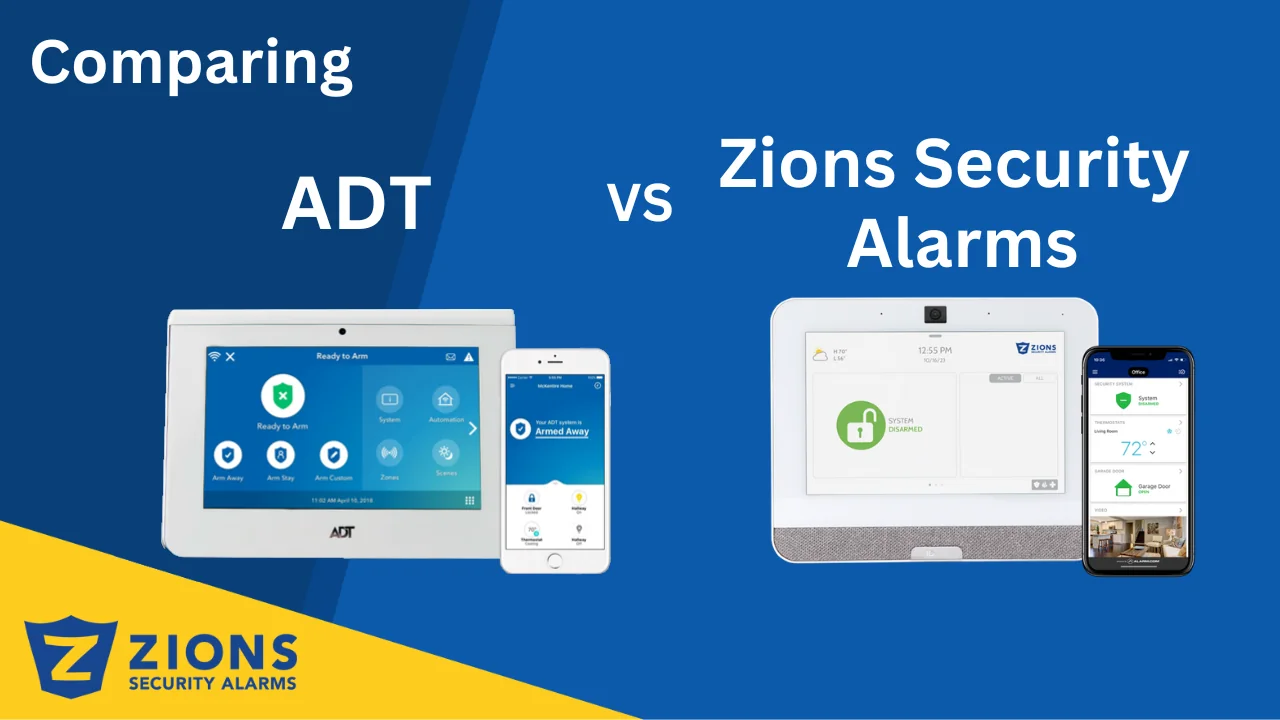 15 Jun

Comparing ADT and Zions Security Alarms

Zions Security Alarms has been in business for over twenty years. Our A+ rating with the Better Business Bureau shows how seriously we take the responsibility of keeping our customers safe. Our goal is to provide the best monitored home and business security systems at the best price to give our customers complete peace of mind.

We know there are many security system options out there and that people often make big decisions based on brand recognition. We also know that the important decision about how best to secure the safety of your family and property should be based on more than a clever jingle.

Since we have carried ADT products for many years, we'll use them as an example comparison to help you make the best security decision for your home or business.
Comparing Contracts
ADT has been a leader in the security industry for over 145 years. They have the most prominent brand recognition and offer their customers appealing discounted or subsidized perks like a "Free Camera" or "Free System." But the catch is customers end up paying for these perks in the long run with a 36-month contract, required credit check, and consistent rate increases. 
At Zions Security Alarms, we prefer a straightforward, no-gimmick approach with no required credit checks or lengthy contracts. We work on a month-to-month agreement that keeps us invested in providing the best service possible.
Comparing Equipment
As for the systems themselves, ADT uses proprietary equipment called ADT Command. Despite their claims of a free system, only a portion of the installation is free, and the base package only covers a certain number of doors and windows. Any additional coverage to your home or business requires the purchase of more proprietary equipment, which can add up. Especially when you realize that ADT is recouping the cost of all their "free" products by charging higher monthly rates. And because the system is proprietary, if you ever want to switch to another security company, you'll have to start all over and purchase a whole new system because their equipment isn't compatible with any others.
At Zions Security Alarms, we install a non-proprietary system called the IQ4 Panel. You purchase the exact system tailored to the needs of your property and then pay a substantially less expensive monthly rate, so you'll always come out ahead financially. And the IQ4 Panel has several features that the ADT Command doesn't have, which gives you more flexibility and control over your system. The costs to add additional security features such as motion sensors and cameras are relatively comparable between the two companies, but because Zions Security Alarms parts are not proprietary, they'll always be easier to replace or upgrade down the line.
Comparing Flexibility
The most limiting aspect of ADT Command is that the system can only be programmed from the back end by a trained ADT technician. So, for example, if you wanted to add a window sensor several months after installation, you'd have to schedule a visit from a tech and pay a service charge. And again, if you ever decide to switch to a new security company, ADT's proprietary equipment means tearing out the old and paying for and installing a whole new system because none of it is compatible with any other company. To make matters worse, it's expected that ADT will soon be switching to a Google-type app which means they're installing Google Cameras that do not work with the ADT Control App. (so two apps!)
One of the most empowering aspects of the IQ4 Panel is that much of the equipment can be self-servicing. And because the parts are so widely used across the industry, many resources on our website and other sites, such as YouTube, are available to help you understand all aspects of your system. You can even add devices on your own.
Comparing Service
Interestingly, both ADT and Zions Security Alarms use Alarm.com's platform–the largest and most innovative cloud-based smart security system. They have the best experience in controlling a home or business security system with one app.
ADT's large size means that when help is needed with a system, customers often face long wait times on the phone or speak with a service rep who might not be fully trained. ADT also limits what features their customers can access with the app to keep their white-labeled version of alarm.com's app feeling different from its competitors. 
As a smaller, localized company Zions Security Alarms unlocks all the alarm.com features, plus we ensure that our customers always interact with an experienced professional who can answer all questions and help service any needs. There are options to call, email, or even text our office for immediate answers.

Free Security Consultation
Of course, there are dozens of other security system companies and services out there. Give us a call, and we'll help you navigate all your options with a no-obligation, complimentary consult.
We've been keeping families and businesses safe for more than 20 years. We love what we do, and we're ready to help protect you.