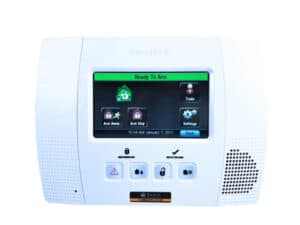 ADT Touchscreen Self Contained also know as the Lynx Touch 5000 
This is the only ADT Touchscreen that comes with a self-contained control panel and siren. This means that you can have an ADT wireless alarm system without having to have a metal control panel box, keypad, and Siren in three different locations. It also means that you can control your ADT alarm system with ADT Pulse from a smartphone without having to add a separate ADT Pulse gateway and a separate cellular communicator. The cellular communicator for this system is installed inside of the keypad.
It is compatible with other ADT Wireless devices.
It is smaller than any other Lynx and has a brilliant color touchscreen. With the color touchscreen it is very easy to use and change settings. Users can turn the chime on and off or the voice description on and off in seconds. They can also add other users or bypass zones very easily.
It can handle more zones that any other Lynx system with 64 max and it just needs to be powered by the AC Power Supply that plugs into any 110V AC outlet.
Even though there are 64 zones of capability they consist of 1 hardwired zone, 47 wireless zones, and 16 keyfob zones.
It has a fairly loud siren and you can add a wireless siren to it also if you need more sound.
Features
64 zones (only 47 wireless zones)
14 user codes
1 hardwired zone
110dB siren
POTS (landline) or cellular option for monitoring
Now compatible with ADT Pulse basic. (Not compatible with ADT Pulse Automation or Video unless you add a cloudlink module)