Zions Security Alarms and other ADT Authorized Dealer prices compared
Zions Security Alarms is different from other ADT Authorized Dealers. We take a custom personalized approach with each person we talk to. This enables us to give them a quote that is specific to them. We also know the industry with over 12 years in business. We have answers to the questions people have about getting a security system.
One of the greatest benefits of choosing Zions Security Alarms is the difference in pricing. When people first start looking into getting a security system installed with ADT monitoring they may think that all offers are the same or they may make the mistake of thinking there is only one way to get ADT. Once they take a closer look they will see a HUGE difference. Zions is considerably less expensive.  Here is a comparison.
On Average Zions Security Alarms will save you $356 over other ADT Authorized Dealers. You may see offers that look attractive but they fail to quote you the cost to add additional equipment. This is why. Their prices are crazy high for more windows etc…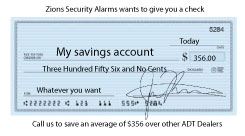 Call us today to get an ADT Monitored Security System and save on average $356.