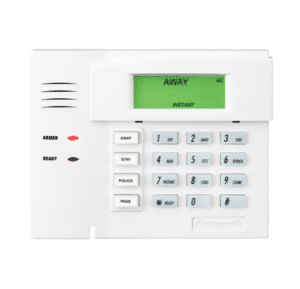 This is the Honeywell Hardwired Basic Keypad for their Vista security panels.  It is called basic since it only shows numbers on the screen in place of the Alpha keypad that shows words and numbers with a bigger screen.
Honeywell's description
Honeywell's Fixed-Language Display Security Keypad is an excellent addition to any installation.
Enhanced function and arming keys are great for quick set-up and customer use. The use of graphic icons and text simplifies operation and provides system status at a glance. Alpha and Fixed-Language keypads have the same family look. Models are available that offer voice, integrated RF or a hardwired zone to best meet the needs of the installer and the end-user's budget.
Features - (Anything with parenthesis next to it means there is a different model that is available for additional investment.)
Attractive, sleek look
Wide, easy-to-read matrix LCD display (Alpha only)*
VISTA Intelligent Programming (VIP)
- Menu-based programming option (Alpha only)*
- Intuitive, menu-based user code programming (Alpha only)*
Single-button arming option
Intuitive clock programming
Icon indicators
Four programmable function keys
Integrated 5800 transceiver (RF models)
- Fixed-English: 16 zones
- Alpha: Unlimited zones
Voice annunciation (voice models)
Integrated hardwired zone (ZN models)
Compatible with all VISTA controls
*Supported by: VISTA-21iP or equivalents; Rev 3.16 and above VISTA-20P & VISTA-15P or equivalents; Rev 9.16 and above VISTA-10P or equivalents; Rev 4.16 and above