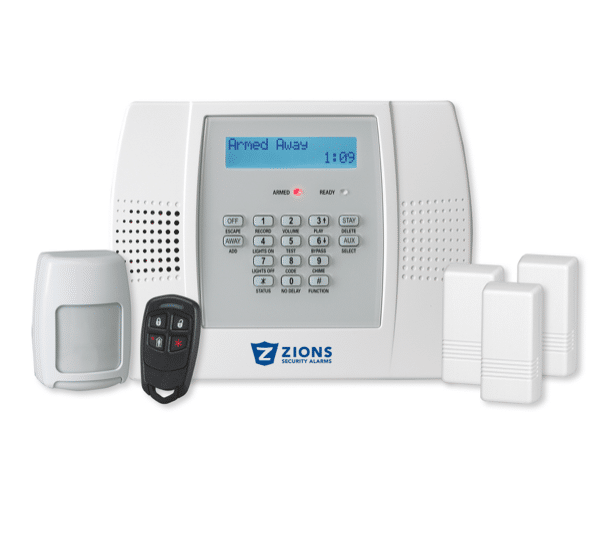 The ADT Lynx Plus Kit (ADT Quick connect) is one of the most common security systems installed in homes and businesses today. It can handle 40 wireless zones and has a talking alpha keypad. (this means it is really easy to program or discover what is wrong if there is an issue)
This is the Lynx Plus Keypad/Panel that comes with 3 door/window sensors, 1 motion detector, and 1 keychain remote.
It also comes with a back up battery and a transformer.
What it does not come with is wire to connect the keypad to the transformer. You can buy 18/2 wire to use for that and you probably will not need more than a 10ft piece.
You can add any of the wireless Honeywell Equipment to it. You can also add a cellular radio if you want to be monitored without a landline phone (POTS line).
ADT Lynx Plus Kit (ADT Quick connect) Features
Supports two-way voice over GSM radio (with the GSMVLP radio module)
Supports Total Connect remote services
GSM signal strength indicator on the display
Up to 40 wireless zones
One hardwired zone onboard
Voice prompt programming mode
Lack of usage notification
Real time clock
Full 16-button keypad with easy-to-read LCD display and status LEDs
Built-in two-way voice system
Hinged front and back cover for simpler installations
Wall or optional desk-top mounting
85 dB internal sounder with voice siren
Internal speaker and microphone
Eight user codes
84 event log
Fully downloadable
Rechargeable battery backup
Scheduling
End-user
2 x 16 Custom Alpha backlit display
"Follow Me" alarm and reminder announcements
Voice prompted clock setting
Full voice response
Family message center that records and plays back voice messages
Speakerphone operation
Remote phone control
Optional bidirectional remote provides system status feedback
Optional wireless, programmable remotes offer single-button system control
Activates lights, appliances, garage doors and numerous other applications with the touch of a button or at specified times (with optional X-10® devices and transformer)
Quick exit feature enables users to leave the house for a brief time without disarming the system
Chime by zone feature sounds chime and speaks location in plain English
Single button operation